The Office of Social Justice Initiatives & Identity Programs (SJIIP) and the Affinity Spaces center the lived experiences of our intersectional identities in all the work we do. In order to centralize the lived experiences of our community, we utilize the Social Justice practice as the foundation in our work. In particular, we draw inspiration from the Social Justice Change Model and the Model of Enviromental Purpose and Design frameworks inform the services and support our spaces provide. Further, we support scholar development based in these models as well, with our goal of inspiring scholars to find their agency and become active agents for social change.
---
Social Justice as a Process & a Goal
Social Justice is both a process and a goal. "The goal of Social Justice educations is full and equal participation of all groups in a society that is mutually shaped to meet their needs. Social Justice includes a vision of society that is equitable and all members are physically and psychologically safe and secure."
The process of attaining the goal of social justice, we believe, should also be democratic and participatory, inclusive and affirming of human agency and human capabilities for working collaboratively to create change.
Reference: Teaching for Diversity and Social Justice: A Sourcebook. Edited by Maurianne Adams, Lee Anne Bell, and Pat Griffin. (2007)
---
Social Justice Change Model
The following model is connected to the way that the SJIIP supports scholar coordinators and scholar communities. The Social Change Model focuses on the goals of helping students in higher education to understand one's talents, values, and interests and to develop the capacity to mobilize the self and others to serve and work collaboratively towards social change. Additionally, the final goal of the Social Change Model is to facilitate positive change at the institutional level or on a community level. With this approach, leadership is built on the following understanding:
Leadership is socially responsible.

Leadership is collaborative.

Leadership is a process, not a position.

Leadership is values-based.

All students (not just those who hold formal leadership positions) are potential leaders.

Service and community involvement are powerful vehicles for developing students' leadership skills.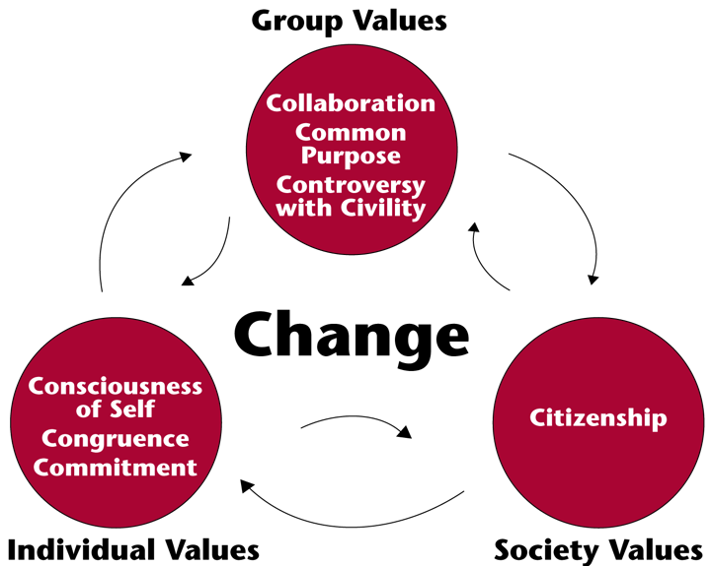 Source: Washington State University, Center for Civic Engagement https://cce.wsu.edu/about/social-change-model/
The 7 C's in the Social Change Model:
Consciousness of Self: Awareness of one's beliefs, values, ideas, and emotions that motivate a person to take action.

Congruence: Thinking, feeling, and behaving with consistency, genuineness, authenticity, and honesty towards others. Actions are consistent with most deeply-held beliefs.

Commitment: Passion, motivation and follow through to contribute to the collective effort.

Collaboration: Working with others through empowerment and with trust. Vital that group members explore differences in individual values, ideas, affiliations, visions and identities.

Common Purpose: Working with others towards a shared goal and vision.

Controversy with Civility: Very similar to the Center's Value of Critical Love, this indicates mutual respect and a willingness to give and receive important feedback.

Citizenship: Working towards positive, responsible change on behalf of the community; Connected to civic engagement.
Source: adapted from UC San Diego Social Change Model of Leadership Development: https://gels.ucsd.edu/hawaii/leadership.html#:~:text=The%20Social%20Chan....
---
Model of Enviromental Purpose and Design
We also build on creating an environment where scholars, faculty and staff feel a sense of belonging due to creating an environment that is safe and inclusive. Grounding our practices on Dr. C. Camey Strage and James H. Banning's theory centered on creating an environment that is conducive for student success by addressing one's foundation needs first, a sense of security and belonging. Once students are secure, they start to participate and engage with the environment around them. Ultimately leading to students being fully immersed in the community, as seen in the Model of Environmental Purpose and Design (2001).